ATRS Services
ATRS provides rollback truck towing services to any location and repairs automatic transmissions. ATRS specializes in transmission rebuilds and installs.
Owner Dale Armentrout and his team are capable of handling a variety of general repairs, and also perform transmission flushes.
ATRS employees are always knowledgeable about the latest techniques and information concerning new transmissions and other equipment. As an added convenience, in-house towing on a rollback is available for all customers.
Company Info
ATRS started out of Dale's own two bay garage in 1979. By 1987 he started making improvements to increase the working area.
Over the years ATRS has added office space and a 40 foot by 60 foot area, which gave room for two more bays. ATRS has now grown to over 4,000 sq. feet. ATRS continues to grow and serve the Shenandoah Valley.
Dale Armentrout, founder of ATRS, started learning about transmissions at the age of ten while cleaning shop and hanging out in a neighborhood transmission garage. Soon after, Dale started learning the ins and outs of transmission work. Learn about transmissions for yourself on Wikipedia.
Free Estimates - Towing/Transmission
At ATRS, we take pride in doing first-class work, ensuring customer satisfaction. We offer free estimates on towing and transmission rebuilds and a clean garage.
Best in the Valley
ATRS is proud to say we are the "Best Transmission Shop in the Shenandoah Valley."

ATRS is one of Jasper's largest customers on the East Coast.
Most of ATRS' clients are a result of referrals from other customers and local auto shops, dealers, and independent garages.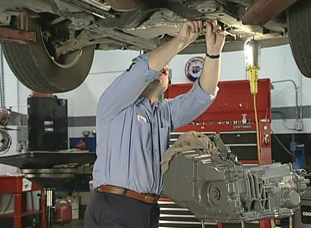 Contact Us
Business Hours: Monday–Friday
8 a.m.–5 p.m.
3028 Indian Trail Rd.
Keezletown, VA 22832
Map and Directions
Copyright 2007 ATRS
Design by Immerge